Rachel is a mostly self-taught baker and cake decorator with a passion for designing beautiful cakes and sweets, emphasising clean designs and fantastic taste and texture. She believes in using the best quality ingredients (couverture chocolate, eggs from happy chickens, real butter, premium Dutch cocoa, etc.) and makes everything lovingly from scratch. Her designs reflect each client's style and theme, incorporating both traditional and contemporary design techniques with modern proportions and clean lines.
We are stoked to have interviewed Rachel and so happy to feature her incredible cakes on Brides Central.
Q: Aside from great designs and that creative eye what makes Forty-Two Cakes stand out from other cake makers?
A: The cake is an important visual element of a wedding, and we pride ourselves on our design aesthetic and impeccable execution, but wedding cakes have a bad reputation when it comes to flavour. We believe a wedding cake absolutely must taste as good as it looks and we take great care to make this happen - we make every element of our cakes from scratch, from the cake layers themselves (our own recipes) to our own jams, curds, salted caramel, cookie crumbs, pralines, fruit purees, and other flavour/textural elements that we carefully balance to avoid cloying sweetness. We bake everything as close to the event date as possible to ensure freshness and use only real butter, free-range eggs, couverture chocolate, and other premium quality ingredients to get the best flavour and texture.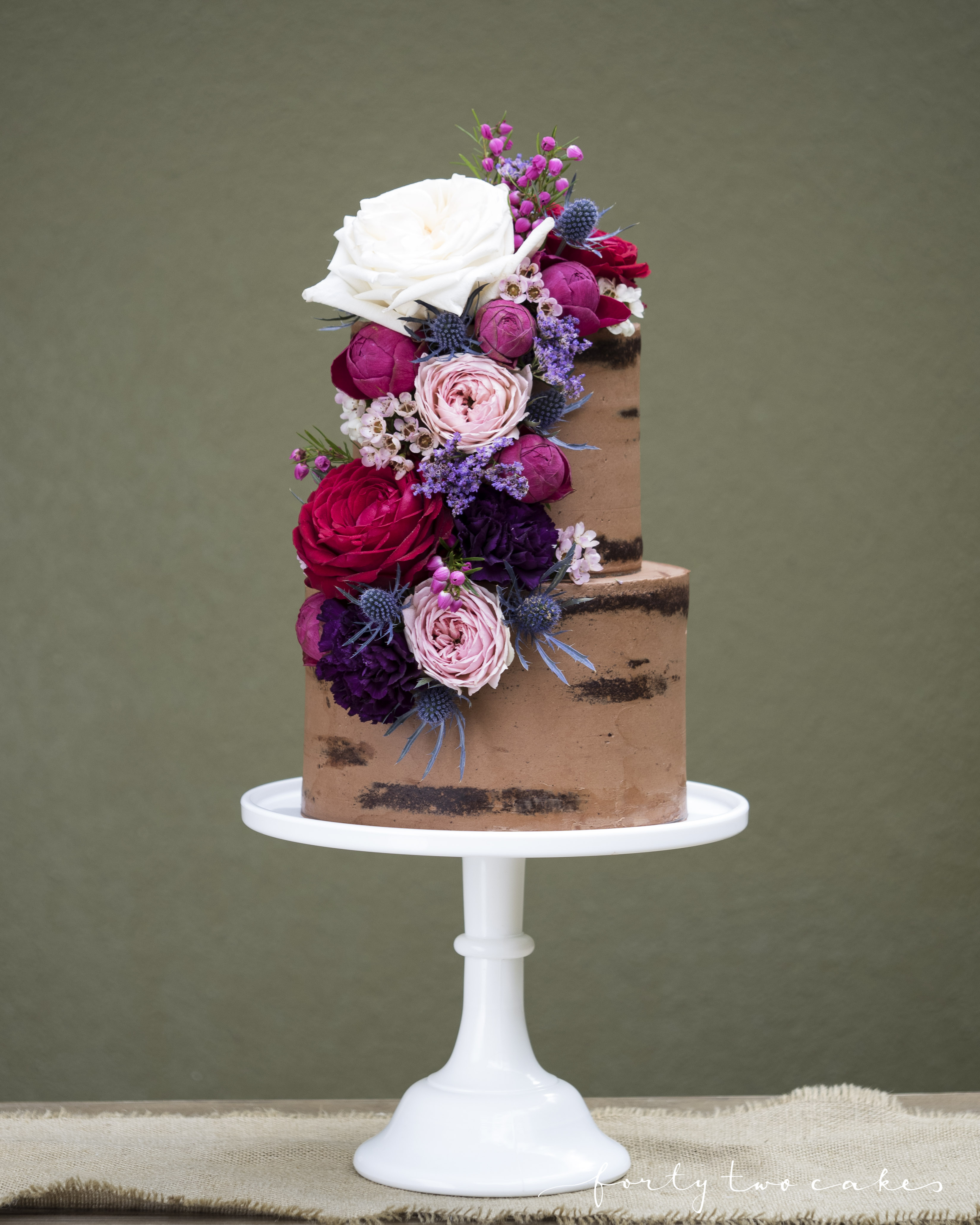 Q: When did you start baking and creating beautiful cakes and why?
A: My long-time love for making all kinds of desserts evolved into a focus on cakes when I was asked to make wedding cakes for both my mother and a close friend about six years ago. I found the process of creating these centrepieces totally exhilarating, and by the time I challenged myself with designing and making my own wedding cake (along with many prototypes!) soon after, I had found my calling and become totally addicted to the whole process – both in creating delicious flavour and texture combinations and in decorating them beautifully. More and more people started asking me to make their wedding cakes so I registered my kitchen as a home food business and launched our website and social media, and it grew from there!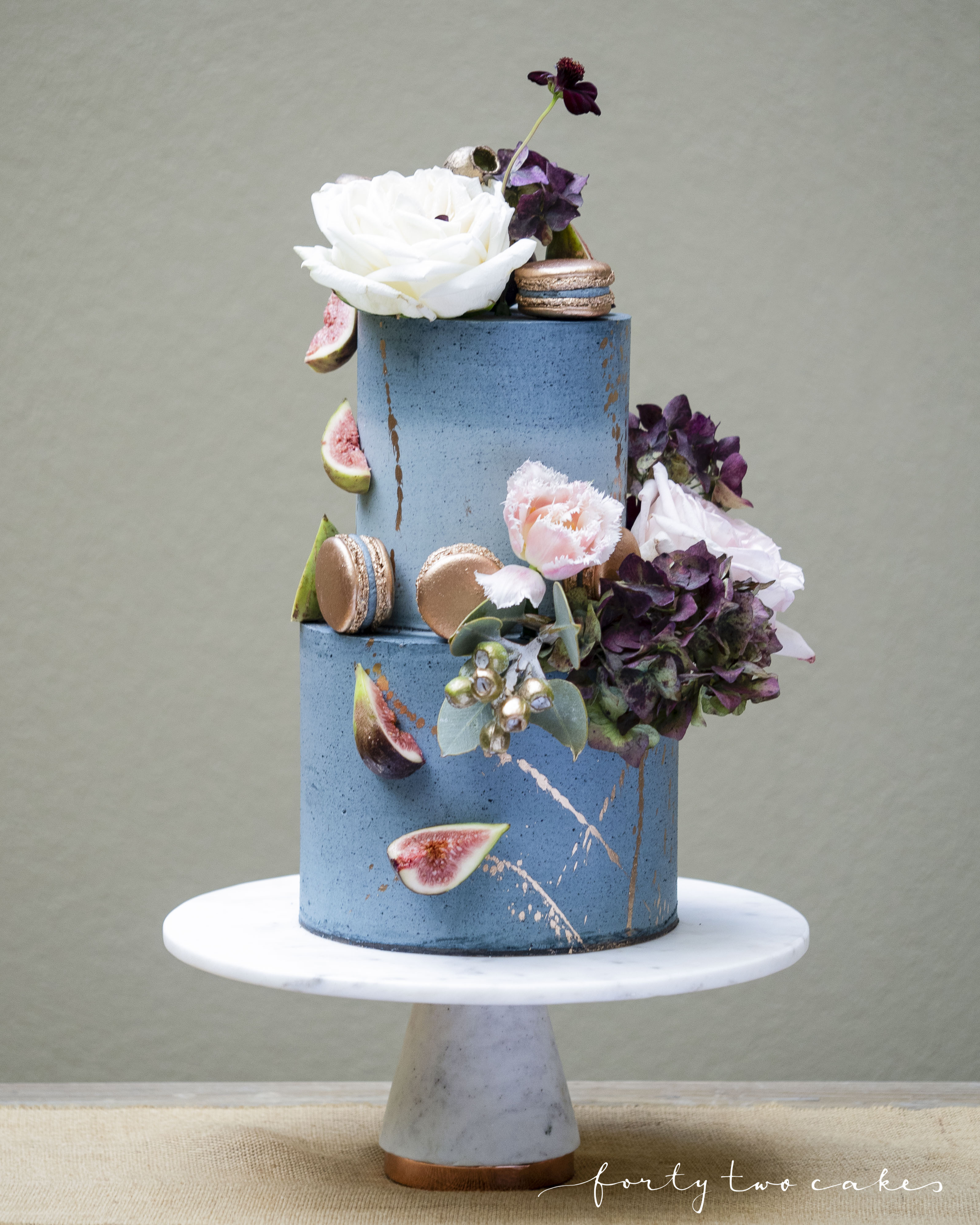 Q: What is the wedding cake trend of 2019?
A: Metallics (especially rose gold) and fresh florals have been huge all year! And semi-naked cakes are still showing no sign of slowing down after several years of huge popularity.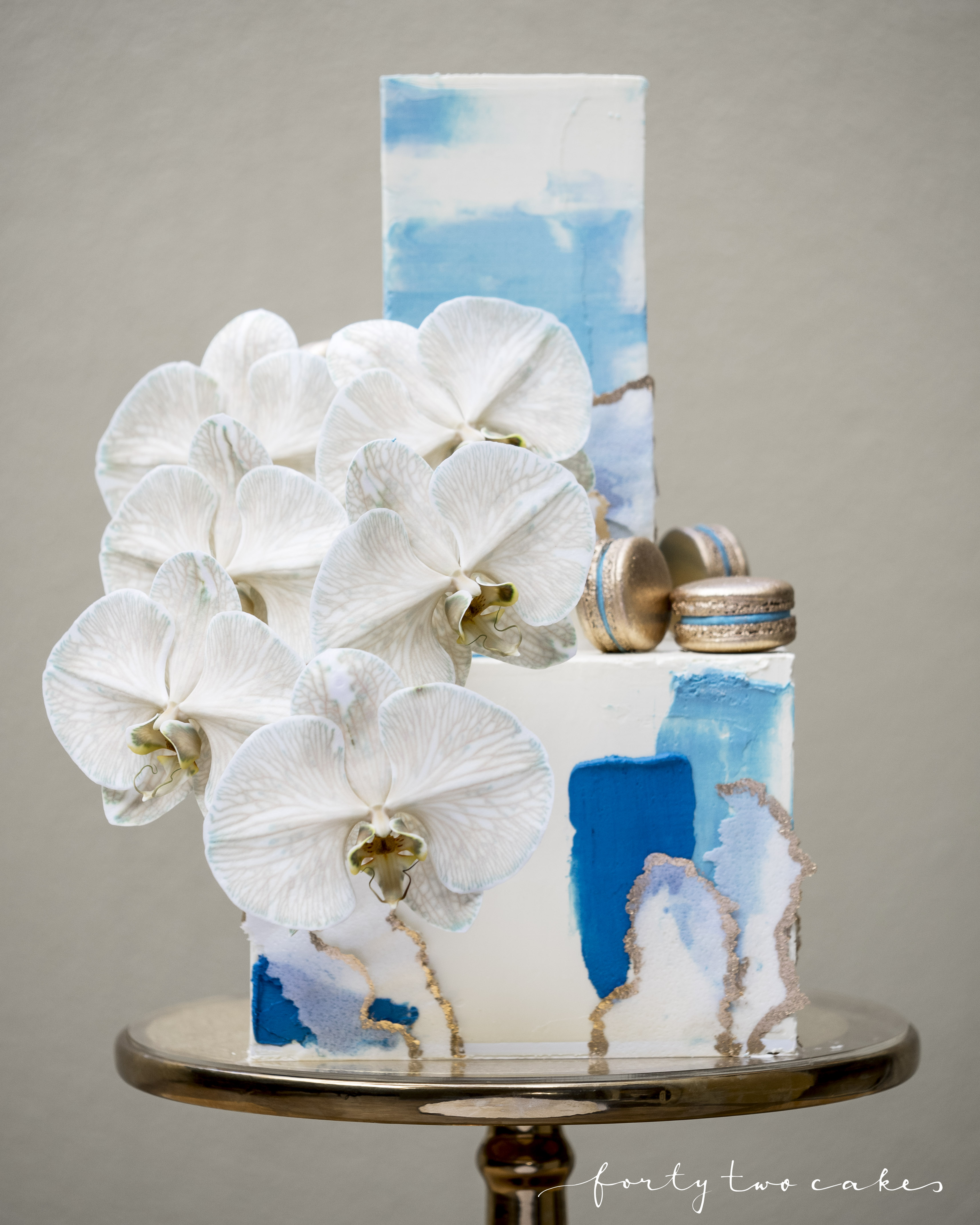 Q: How long should you book your wedding cake in advance?
A: If you have a particular cake maker in mind, it's worth getting in touch as soon as you have confirmed your date and venue, as cakers can book out quickly, especially during the peak wedding seasons (March-April and September-November). As a very small business, we, actually only take bookings six months in advance so we can ensure nothing comes up as our circumstances evolve that would prevent us delivering an order for our clients. We place clients who get in touch with us before this time on a waiting list for their date, so it's still worth getting in touch as early as possible to have the best chance of securing your spot.
Q: Do all brides and grooms ask for taste testings?
A: No, in fact the majority don't. Many of our clients come to us due to word of mouth recommendations about the flavour and texture of our cakes, and completely trust us to bring their favourite flavours to life - I think they actually enjoy the excitement of being able to taste their cake for the first time on their wedding day! But we do sometimes make small cakes or boxes of cupcakes for those that have trouble deciding, or just want the peace of mind of trying their chosen combination of cake and filling before their big day.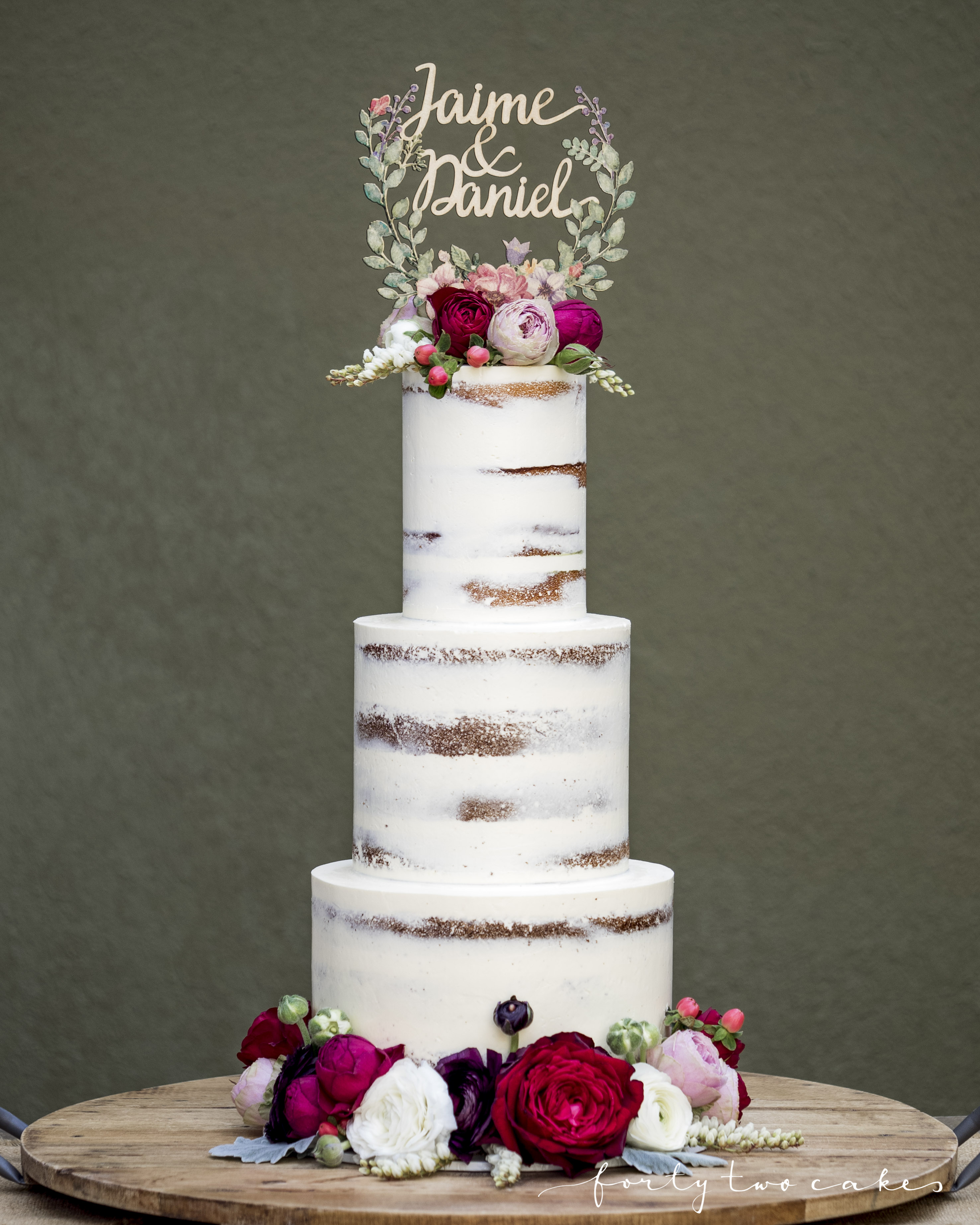 Q: Do Forty-Two Cakes deliver?
A: Of course! We like to be in control of every aspect of creating our clients' cake experience; including delivering and setting it up in the venue ourselves to ensure everything is perfect.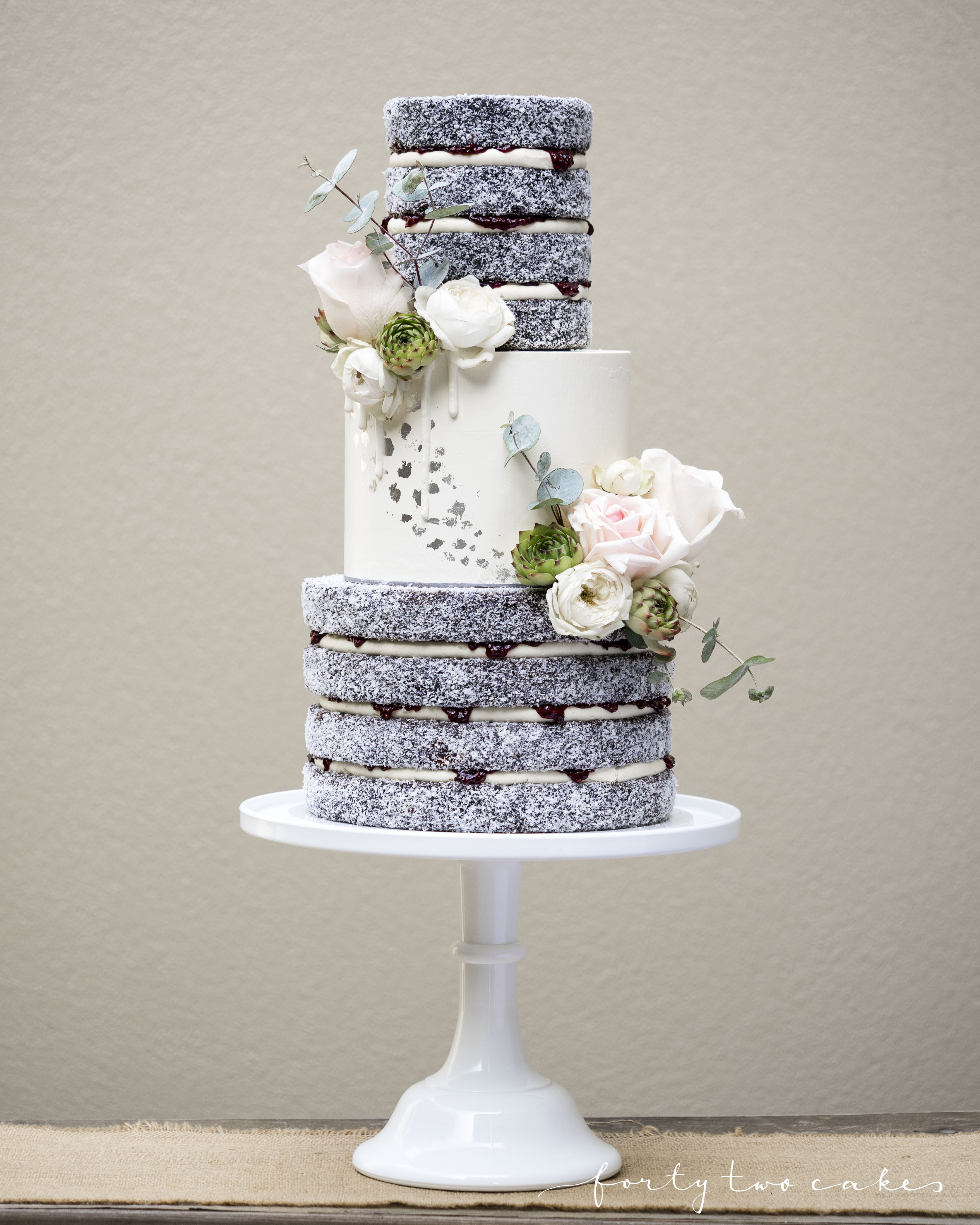 Q: What is your most favourite cake or sweet to make?
A: That's tough! We make so many different flavours of cake and filling that it's hard to choose a favourite, but I tend to love the slightly more unusual ones - matcha and black sesame, pumpkin, lychee and rosewater, dark chocolate and whisky, turkish delight, earl grey, toasted marshmallow, rhubarb. As for sweets that aren't cake - you can't beat a perfect chewy-soft chocolate chip cookie (with a sprinkle of salt flakes), or a rustic Italian crostata.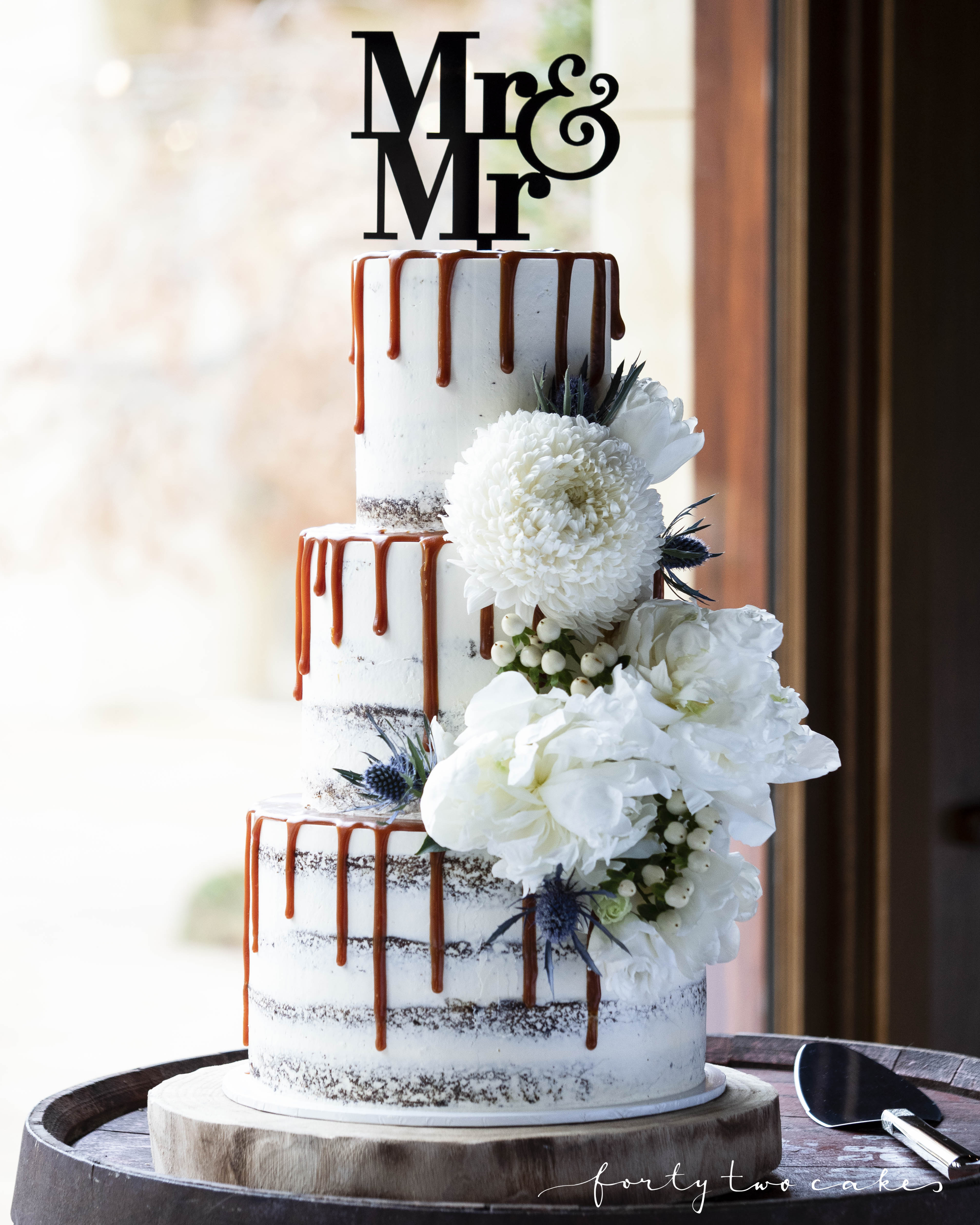 Q: What flavour of cakes can brides order from Forty-Two Cakes?
A: SO MANY. We actually don't have an exhaustive list for our clients to choose from, because we don't want to place limits on their creativity and love coming up with new flavours and combination for them. There are 37 flavours and combinations listed on our website as inspiration for clients who need something to start with, and we make a point of listing the flavours of every cake we post on Instagram so people can learn about what goes into our cakes, but after that it's open for negotiation!
Q: Do you offer gluten free or dairy free cakes?
A: Yes! Everyone deserves delicious and beautiful cake, so we try to accommodate all of our clients' dietary requirements. We caveat this with the fact that our kitchen is not a certified gluten/dairy/nut/other allergen-free zone as we regularly handle these ingredients, so we can't guarantee the absence of trace elements in our products due to cross-contamination.   
Q: Do you prefer fresh flowers or sugar?
A: They both have their strengths. Fresh flowers give cakes a gorgeously organic and natural look, and have been hugely popular over the last few years with the trend in rustic, natural wedding styling. They also have the advantage of coordinating perfectly with the bride's bouquet and the other floral arrangements at the wedding. Sugar flowers give us the ability to create any flower, in any colour, in any season, and completely plan exactly how the cake will look in advance, and they can also be kept indefinitely after the wedding as a keepsake. They're both great choices, it just comes down to the aesthetic of your wedding as to which will suit.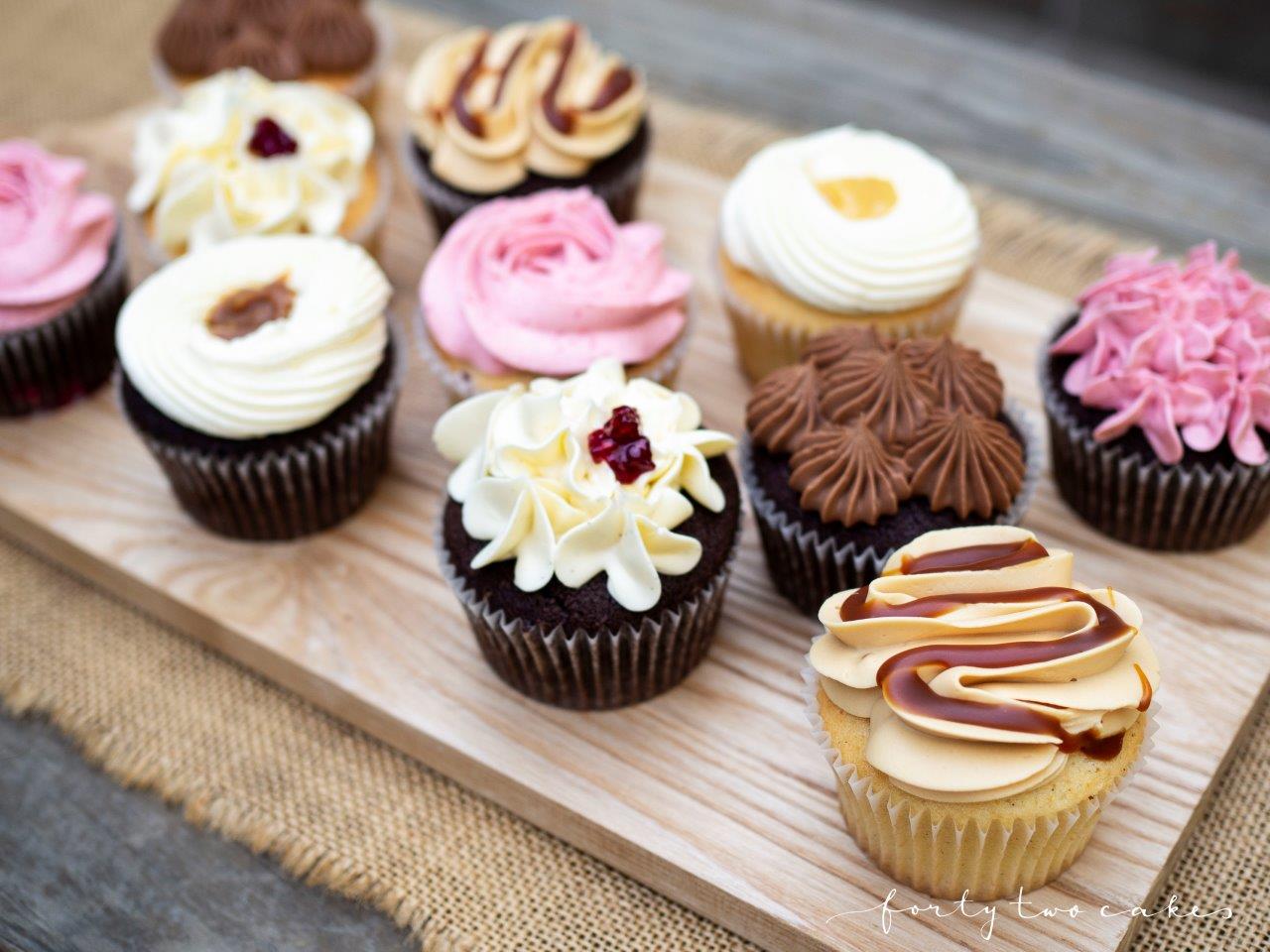 Q: What tips can you give our brides for planning their wedding cake?
A: For the design, definitely look around (Pinterest is great!) to get a feel for the kinds of tier configurations, covering styles, and decorations you like. Then pick a vendor whose work fits in with your vision and preferred aesthetic (this is important!) and talk to them about what you can do within your budget. Remember that more is not necessarily more - sometimes minimalist designs can be the most stunning, so don't go to your cake maker with 12 different design elements and say you want all of them, or you could risk the finished product looking too busy. Figure out what you love the most and which features will work well together and prioritise that. 
When choosing flavours, you should consider both what you love and want to eat, and also what your guests may enjoy. Sometimes these may overlap, sometimes they may not; if you are having more than one tier in your cake, choose at least one flavour combination that you think will please the masses (not everyone - this is not possible!), but make one tier exactly what you want - it's your day, after all! If choosing multiple flavour combinations, it's a great idea to make them quite different to each other so there's some variety in there to cater for different tastes- for example, a rich/chocolatey combination and a light/fruity combination, or an unusual combination and a very simple/classic combination.
Q: Do you decorate 'fake' cakes to cater for large looking cakes?
A: We can do this with fondant designs (not buttercream), and have done so for a few clients that wanted bigger cakes than their guest numbers required. However, the vast majority of our clients want their whole cake to be edible!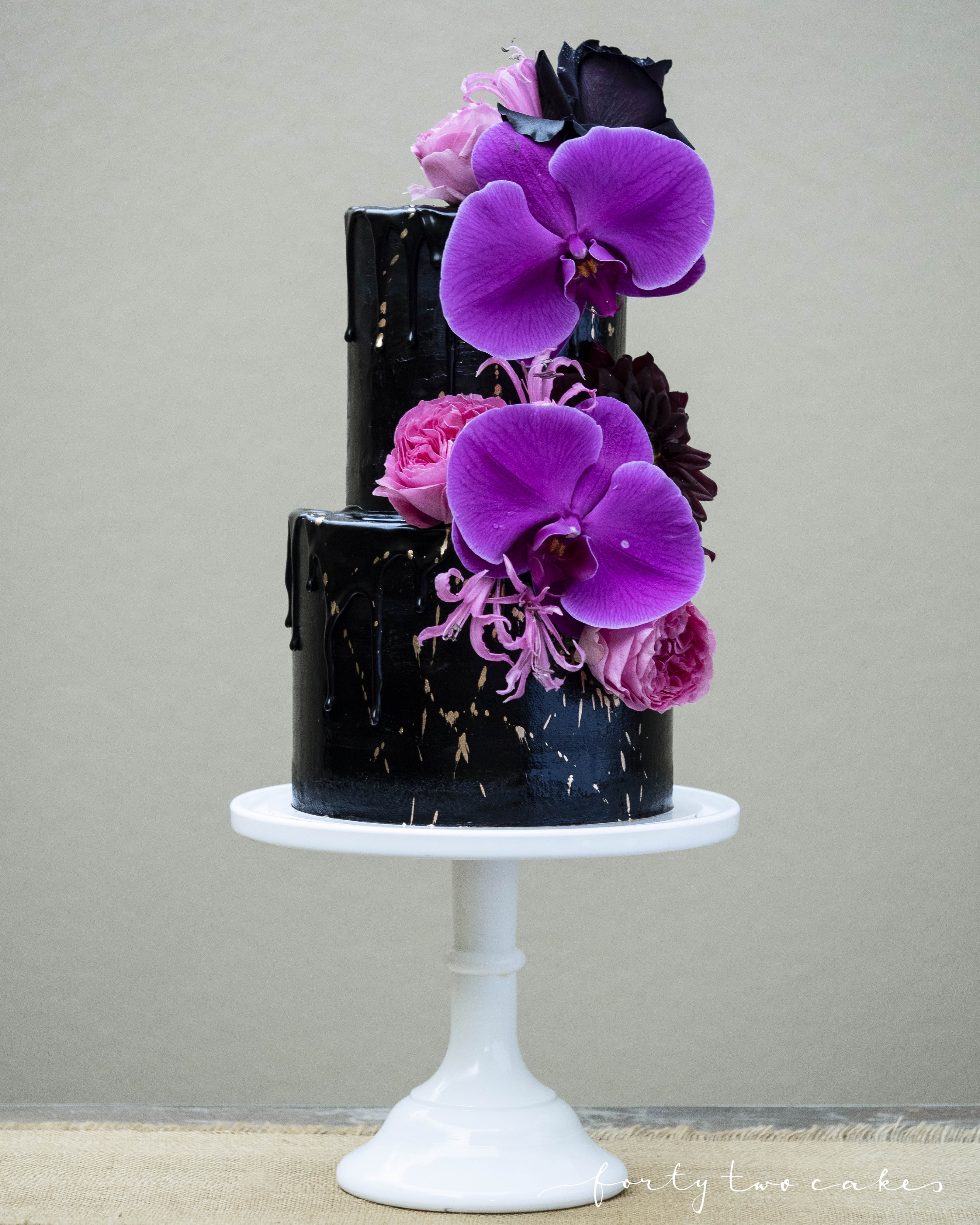 Q: What other services do Forty-Two Cakes offer?
A: In addition to cakes, we also make cookies, cupcakes, macarons, and whole heap of other desserts, along with small-batch preserves including citrus curds, jams, and marmalades. 
Q: Which is your favourite cake of 2018 so far?
A: A three tier wedding cake with two tiers of lamington cake (one of our signature designs) and a tier of silver leaf-flecked smooth white buttercream with a teeny white drip, decorated with soft pink florals and succulents. It was a compromise between the groom (who wanted all lamington) and the bride (who wanted something more 'bridal') and we absolutely loved how it came out. It had great flavours too - everyone loves the fluffy vanilla bean cake, dark chocolate glaze, coconut, and raspberry jam of a lamington, and inside the white tier was fresh raspberry and passionfruit.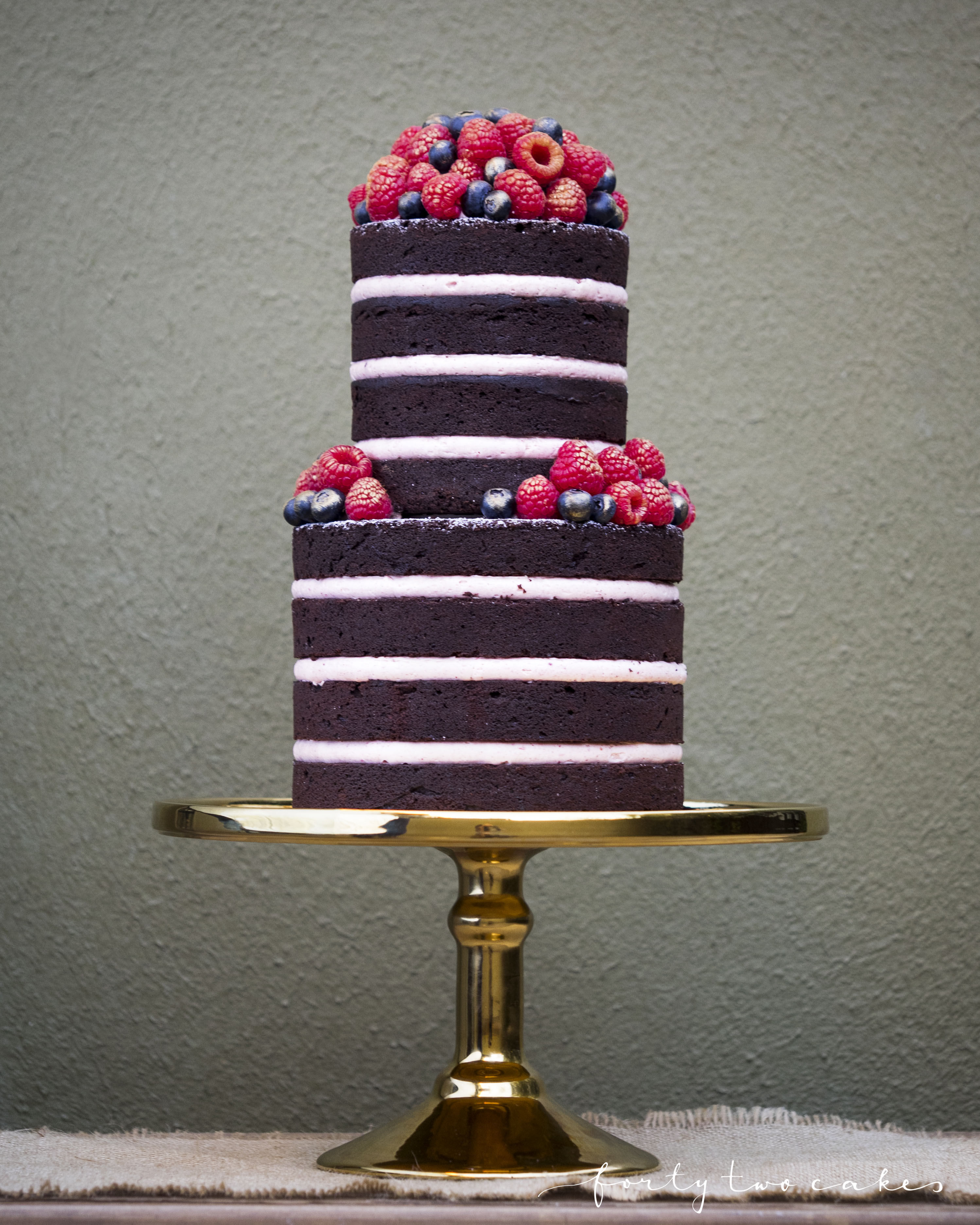 Q: If you had the chance to bake for a celebrity wedding who? would you bake for and why?
I know my moment has already passed, but I would love to have made that cake for Harry & Meghan! I thought it was great that they were prepared to buck tradition to pick flavours and decorations that were true to their own style, and they seem like such a down to earth couple. The global exposure wouldn't have hurt, either!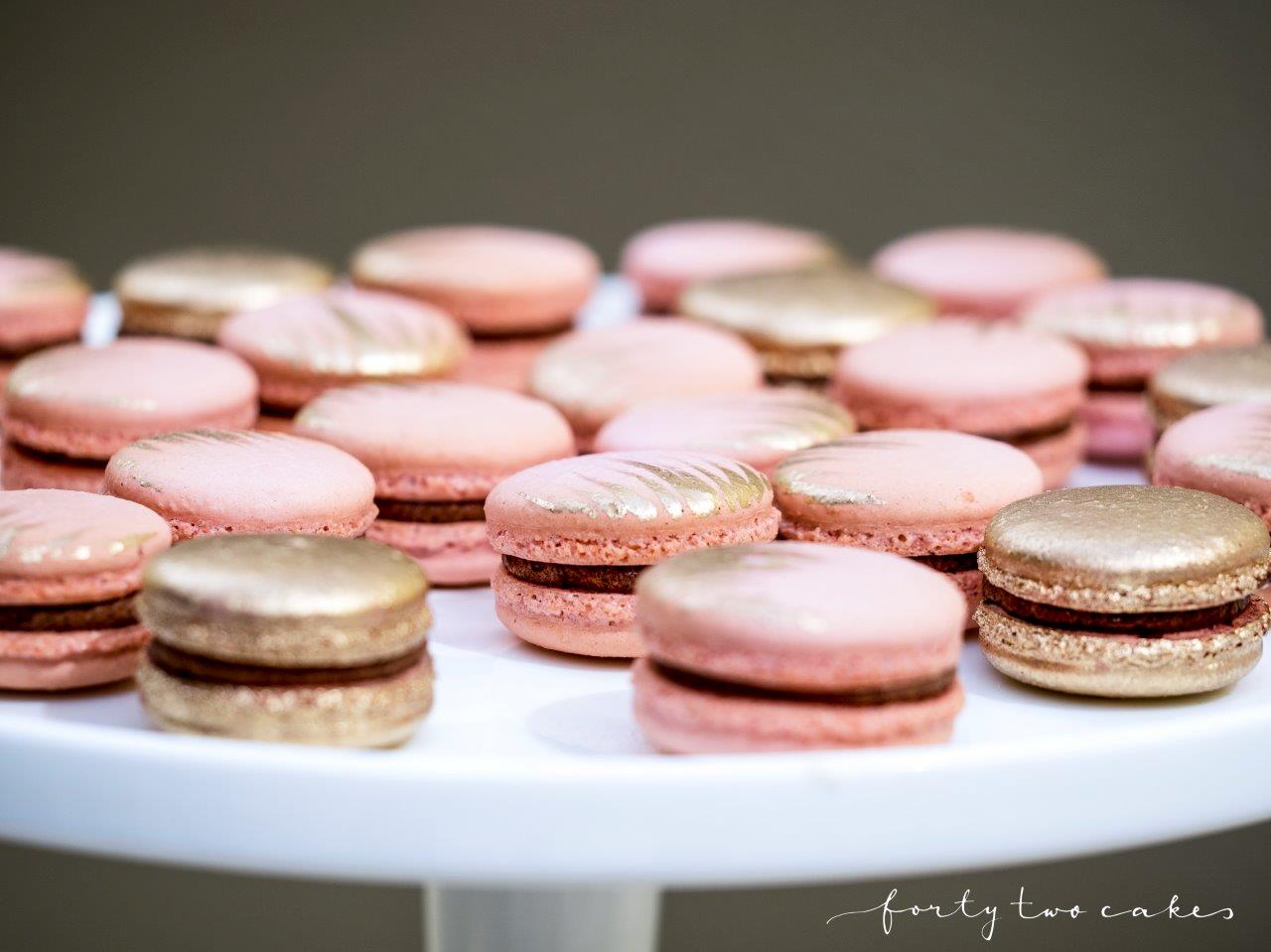 You can also follow Forty Two Cakes on Instagram @fortytwocakes to keep up with their latest caking adventures